Garden Fresh Sippers
We visit with a creative bartender who uses fresh fruit, herbs and vegetables to heighten the flavor of both traditional and original creations. This segment features Peach Mint Julep and Neon Nights.
Gardener Notes
Neon Nights: ¾ oz of lime juice, fresh squeezed / ¼ oz of simple syrup / 1-1/2 inch of slices of English cucumber /1-3/4 oz gin ½ oz green chartreuse (herbal liquer) / Handful of mint, leaves only / Block ice in serving glass (Cubes are fine) Place ucumbers into top cup of a cocktail mixer. Rub mint leaves between palms to release oils then place in top cup. Lime juice, syrup into mix cup. Muddle heavily into a paste. Pour gin into mix cup along with chartreuse. Heavy shake. Strain thru both a Hawthorne strainer and tea strainer over block ice in a serving glass. Garnish with a few thin slices of cucumber. To make simple syrup: Pour equal parts water and sugar in a saucepan. While stirring, heat the ingredients until sugar dissolves. Cool. Put in a container with a tight fitting lid and store in refrigerator. NOTE: Heath Clark gin was used in Neon Nights. It is a product of Thompson Station, TN. Hunters' Barrel Select from Leiper's Fork Distillery was used in the Peach Julep. It is a product of Williamson County, TN.
Sheri Gramer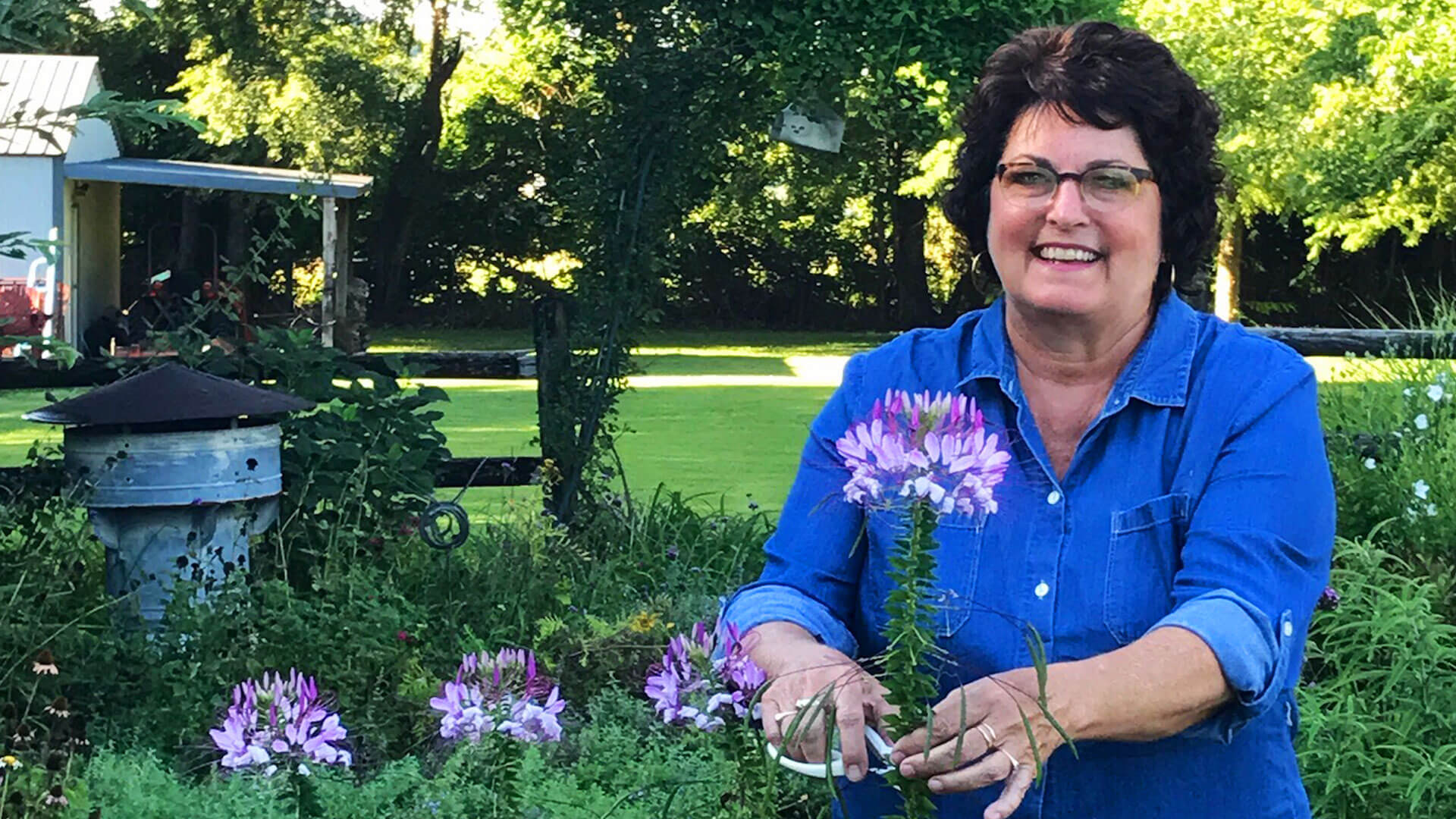 Sheri is a gardener, artist, designer, as well as owner of the specialty shop Yarrow Acres in Franklin, TN. What began as a hobby in Michigan became a 'Main Street' business for her in Middle Tennessee. Her passion for herbs and flowers is obvious when visiting fellow growers on Volunteer Gardener. "From growing to harvesting, there are endless ways to create, craft, cook and live with flowers and herbs."